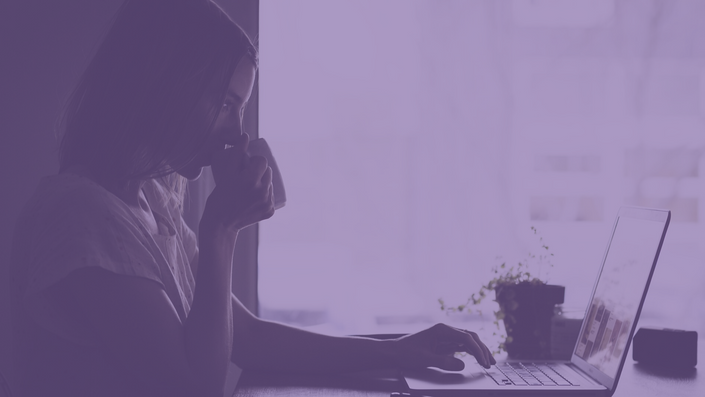 Craft a Compelling Nonfiction Book Proposal 90-Day Program
Writing Coach Ann Kroeker walks you through the process of ​developing a professional nonfiction book proposal
Craft a Compelling
Nonfiction Book Proposal 90-Day Program
In this group program, writing coach Ann Kroeker walks you step by step through the process of crafting your own compelling nonfiction book proposal in 90 days.

---
Is this you?
» You have an idea and you know you need a proposal, but you have no idea where to start.
» You've developed your book concept and feel ready to pitch it to agents and publishers, but still need a book proposal (and have no idea where to start).
» You got halfway through creating a book proposal, but ended up confused and stuck.
» You read blog posts explaining proposals, but when you tried it yourself, you struggled to make sense of all the elements.
» You like the accountability of walking through the process step by step so you'll have your book proposal done (or nearly done) at the end of 90 days.
---
Learn to craft a compelling proposal for your nonfiction book.

Designed for nonfiction authors, this program allows you to develop a quality book proposal following the instruction provided in Ann's training videos and collateral materials, along with live instruction through 8 Q&A coaching calls and live teaching in the group space.

✅ Professional Coaching and Training
"Craft a Compelling Nonfiction Book Proposal" is taught by Ann Kroeker, a professional writing coach who has helped multiple clients complete their nonfiction book proposals and land contracts with agents and publishers.
Throughout the 90-day program, Ann offers eight Q&A coaching calls live, and will stay active and responsive in the group space answering questions.
✅ Group Coaching
The beauty of the 90-day program, though, is you're not alone. This group coaching experience includes others on a similar path, each developing a book concept of their own.
The group approach also offers the advantage of asking questions of peers and getting input from the cohort.
What's more, you can share excerpts of your proposal as the program progresses to get suggestions and input on actual content.
✅ Accountability and a Deadline
You have a goal to complete a strong version of your proposal by the end of 90 days. That's a big commitment and a long stretch of time, but pacing it over the course of three months makes the project doable.
You'll get lots of additional support in a private Facebook group and during the 8 Q&A coaching calls, where you get answers to questions that come up as you work through the materials.
This course is ideal for you if:
your book idea is nonfiction (not a novel)


you're prepared to devote time to learning, researching, and writing the necessary elements for a book proposal over next three months


you're flexible to consider changes to your ideas as you prepare your proposal


you've been looking for coaching and resources relating to proposals but don't want to work on your own



you enjoy interacting with others who are on the same journey
What to expect:
🔹 90-day program
🔹 starts Monday, October 19, 2020 (don't worry—we'll take one week off at Thanksgiving and Christmas!)
🔹 wraps up Friday, January 29, 2021
🔹 7-module video training — dripped out over time, to pace your work and avoid overwhelm
🔹 multiple lessons in each module break down the proposal elements and walk through finding what you need
🔹 worksheets for key lessons
🔹 checklists to keep you on track
🔹 in-group challenges inspire you to follow through with writing goals
🔹 24/7 access to a private, members-only Facebook group to ask questions and be encouraged by others
🔹 share excerpts of your proposal for group input as you progress through the material
🔹 8 hour-long Q&A group coaching calls with Ann (via Zoom) to answer specific questions and keep you motivated
🔹 live coaching through ongoing access to Ann in the Facebook group
🔹 live coaching through pop-up training offers even more instruction from your book proposal coach
⚡ BONUS: a proven nonfiction book proposal template — a downloadable, editable Word document that includes all required proposal elements (with explanations and descriptions) ready to fill out as you go
⚡ BONUS: sample proposal serves as a model for your own final version
⚡ BONUS: The Organized Writer: Tap into the Power of an Editorial Calendar course ($75 value, free with purchase of this program)
⚡ BONUS: easy access to Make Your Sentences Sing: 7 Sentence Openers to Add Music to Your Prose
⚡ BONUS: 7 Steps to a Clear Book Idea: Find the Clarity You Crave and the Validation You Need for Your Nonfiction Book ($27 value, free with purchase of this program)
✨ EARLY ACTION BONUS: First 10 people to purchase receive a free 30-minute 1:1 coaching call with program instructor and writing coach Ann Kroeker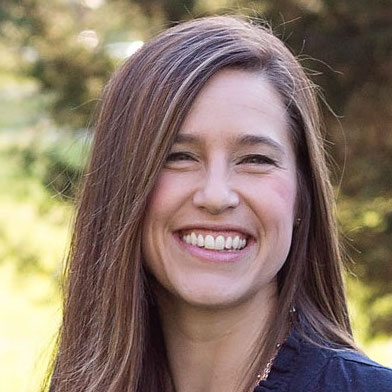 "Ann is one awesome coach. I'm so glad she offered the class, her expertise, and her listening ear. I've been encouraged to move past hobby writer to working writer through this process. I will be starting the search for a publisher for my study and writing up a new proposal."
- Jaime Brinkmann, writer, blogger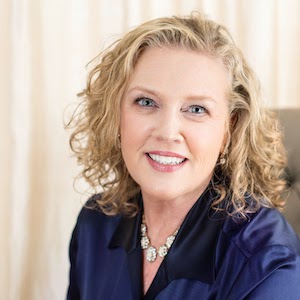 "It's an effective program loaded with value that I've already encouraged others to do when they're ready to really dig in to their proposals. I have found that programs with no group involvement don't really work for me. I lose steam! I may love the idea at first but if there is no human interaction, I just fizzle out. I'm the consummate connector."
- Elise Daly Parker, Life Coach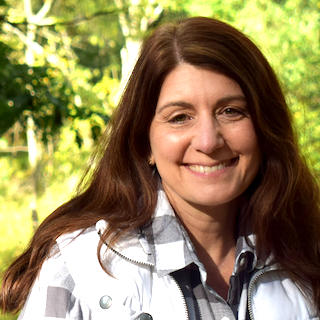 "This course kept me on task and moving forward. When the anxiety and insecurity came, I had places to go to get my excitement back up through the modules, Facebook group, weekly calls, writing challenge, and information Ann shared. I pray she knows how grateful I am!"
- Laura Garry, blogger, The Why Wrestler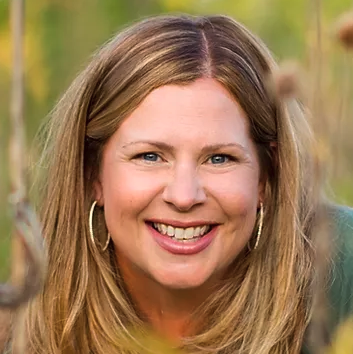 "Ann is such a gift. She is an encouraging teacher who combines experience and compassion with concrete, practical steps. The depth and detail of her teaching exceeded my expectations, and I looked forward to our weekly live calls as ways to test my thinking, hear questions from others, and receive a boost of encouragement. I am so thankful I invested in this course—she is an absolutely gifted teacher."
- Marnie Hammar, writer
Benefits:
Receive extensive professional coaching (at a lower cost than one-on-one coaching) through:



video teaching

8 live Q&A calls (that's eight hours of live coaching)

answers to your specific questions in the group space

review of proposal excerpts posted in the group space

The book proposal template provided as a Word document includes all typical proposal elements with explanations and descriptions, ready to fill out as you go through the course—you don't have to stare a blank page

Group aspect provides encouragement and camaraderie, reminding you you're not alone

Paced lessons, professional instruction, and group input provides support to see this through to completion at the end of 90 days

Potential for creative breakthrough helps you get clarity and overcome hurdles you faced when working on your own

Accountability of walking through the process step by step with others
What This Program *Won't* Do
What this program won't do:
The program won't refer you to agents or publishers—Ann will offer instruction and input, even pointing you to helpful content such as article and website links, but will not introduce you to industry professionals or gatekeepers.

Self-paced video training—even when combined with the hours of interaction through group coaching and Q&A calls—does not provide or replace individualized coaching.

This program will not focus in detail on your book concept—training videos help you fine-tune your ideas and develop your proposal and when you post excerpts in the group space the instructor may offer a few thoughts, but she will not be able to offer specific input on every section of every member's proposal.

This program does not guarantee a book contract—you'll receive clear instruction on developing a proposal and plenty of motivation, but it can't guarantee a successful outcome.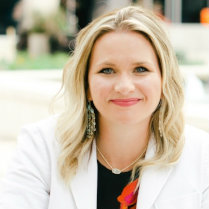 "You won't be disappointed if you are needing assistance with your book proposal. The training material was top notch. Ann goes above and beyond with the training course."
- Melissa Clark, Counselor, Speaker, Writer

"If I were Cinderella, Ann Kroeker would be my fairy godmother. I cannot recommend her highly enough! Ann is an expert coach and a warm soul. And I think she might be a tiny bit magic."
- Kim Hyland, author of An Imperfect Woman: Letting Go of the Need to Have It All Together

"Two years ago I didn't know writing coaches existed. Now, I can't imagine my writing life without one!"
- Kristin Schell, Speaker, ambassador for Front Yard People, and author of The Turquoise Table.
INTRO
Welcome! Glad to have you in the course! (2:41)
Understanding the Need for a Book Proposal (4:14)
Get to Know the Proposal (29:08)
MODULE 1: Define Book Concept & Audience
Book Concept: Core Concept (6:40)
Book Concept: Title & Subtitle (12:47)
Book Concept: Title & Subtitle Validation (8:16)
Audience and Market (13:34)
Build Your Platform as You Go (6:17)
BONUS: Audience Psychographics (17:38)
MODULE 2: Develop Book Content
Book Content: Hook (8:32)
Book Content: TOC (21:21)
Comps - Initial Research (27:35)
Book Content - Structure (9:22)
Book Content: Chapter Summaries (24:20)
Book Content: Brief Description (19:53)
Book Content: Sample Chapter Drafts (3:15)
Book Content: Description (4:02)
MODULE 3: Develop Overview Sections, Author Info, Influencers, Marketing

Overview: Category (9:05)
Overview: Unique Angle (11:05)
Overview: Purpose & Need (4:34)
Overview: Manuscript (10:11)
Overview: Reader Benefits & Special Features (5:16)
Overview: Alternate Titles (2:43)
Overview: Series (8:49)
Overview: Proposed Future Book Ideas (5:28)
About the Author (8:35)
Endorsers & Influencers (7:52)
Marketing & Promotion: Ideas (4:13)
MODULE 4: Validate - Platform
Platform: Intro (1:51)
Platform: Website (16:59)
Platform: Social Media - Facebook (8:08)
Platform: Social Media - Twitter (8:23)
Platform: Social Media - Instagram (8:26)
Platform: Social Media - LinkedIn (3:34)
Platform: Social Media - Pinterest (7:21)
Platform: Social Media - YouTube (3:00)
Platform: Social Media - Various (4:16)
Platform: Speaking (6:09)
Platform: Media & Podcasts (10:25)
Platform: Endorsements (9:43)
Platform: List Building (6:18)
Platform: Previous Book Reviews (2:44)
Platform: Unique to You (1:46)
Sample Chapters: Final Drafts (4:00)
MODULE 5: Validate - Marketing Plan
Marketing & Promotion: Intro (1:46)
Marketing & Promotion: Brain Dump (9:10)
Marketing & Promotion: Overall Statement (2:27)
Marketing & Promotion: Pre-Release (18:21)
Marketing & Promotion: Release (12:33)
Marketing & Promotion: Post-Release (4:05)
MODULE 6: Refine
Refine: Intro (2:06)
Refine: Find and Replace (5:42)
Refine: About the Author - Bio (6:27)
Refine: About the Author - Elements (7:36)
Refine: Platform (4:56)
Refine: Finalize Comps (11:00)
Refine: Marketing & Promotion, Endorsers & Influencers (7:39)
Refine: Audience & Market (8:42)
Refine: TOC & Chapter Summaries (5:35)
Refine: Formatting (12:38)
MODULE 7: Finish
Final Recap (12:25)
Final Design (7:29)
Sendoff (3:48)
BONUS!
Three courses included with the program:
Make Your Sentences Sing, 7 Steps to a Clear Book Idea, and The Organized Writer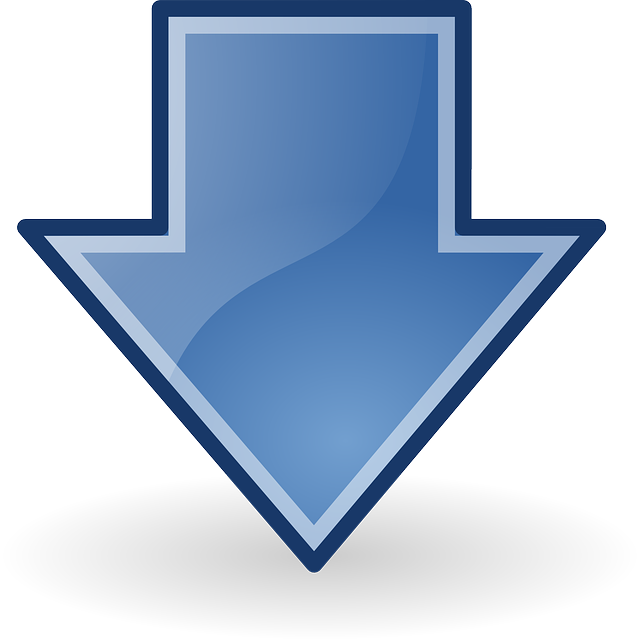 Courses Included with Purchase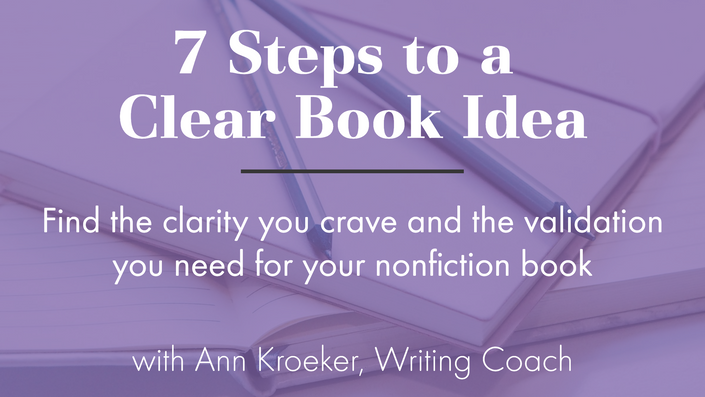 7 Steps to a Clear Book Idea
Find the Clarity You Crave and the Validation You Need for Your Next Book Idea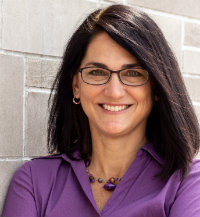 $27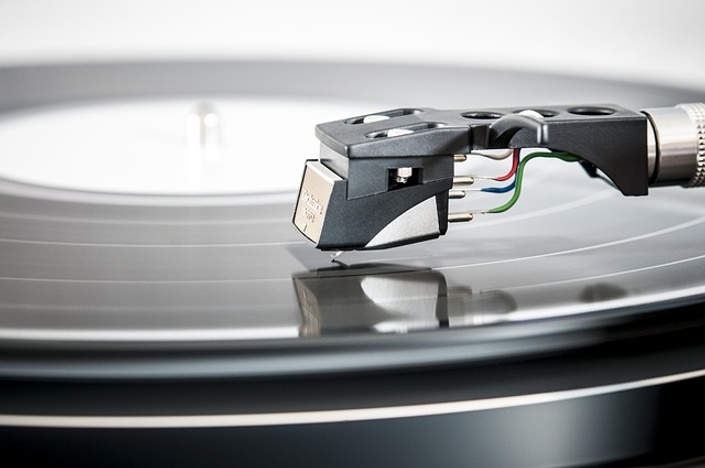 Make Your Sentences Sing: 7 Sentence Openers to Add Music to Your Prose
FREE mini-course to enhance the way you write (with ideas to apply right away)!
FREE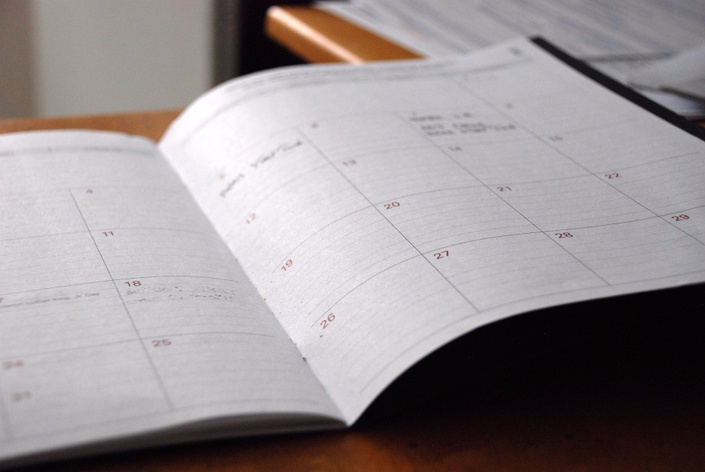 The Organized Writer: Tap into the Power of an Editorial Calendar
Learn How to Use an Editorial Calendar to Unlock Your Potential and Make You More Motivated, Effective, and Professional
Original Price: $27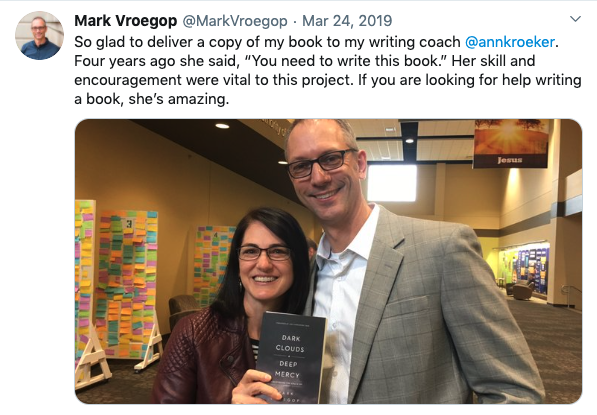 "If you are looking for help writing a book, she's amazing."
— Mark Vroegop, author of Dark Clouds, Deep Mercy, Christian Book of the Year 2020
Your Instructor
Writing Coach Ann Kroeker leverages over 25 years of writing and editing experience in the publishing industry to equip her clients to reach their writing goals. A published author and coauthor, corporate and freelance writer, book editor, speaker, and poet, Ann has served on the editorial teams of two large online organizations and focuses on serving others in her role as a writing coach.
In her role as a writing coach, she celebrates client successes, such as acceptance into prestigious MFA programs, signed agent and book contracts, articles and essays placed in national publications, and the launch of their own freelance writing businesses. She coauthored On Being a Writer: 12 Simple Habits for a Writing Life that Lasts, and authored Not So Fast: Slow-Down Solutions for Frenzied Families and The Contemplative Mom.
IMPORTANT: Before purchasing, please review and agree to all Terms and Conditions below.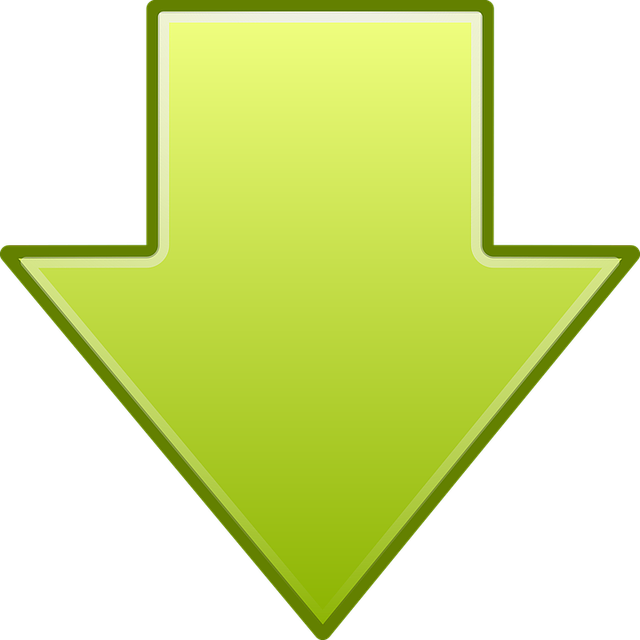 Terms and Conditions
---

Please carefully read the following terms and conditions (the "Terms") relating to your purchase of this training program (the "Program") with Ann Kroeker, together with any of her affiliates, colleagues, or agents. By registering for the Program, you agree that you enjoy writing, that you hope to hone your craft under the tutelage of Kroeker, and you further agree to these terms and conditions. If you cannot assent to these terms and conditions, you should not purchase the Program.
General Terms and Conditions:
You understand that I have made every opportunity to adequately represent the Program and the potential outcomes–i.e., the Program is designed to provide training, direction, and input to writers preparing a nonfiction book proposal. However, you understand that individual results and success may vary depending upon a myriad of factors, including your skill, command of language, competency, knowledge, ability, dedication, goals, and other intangibles. I cannot make any guarantees, representations, or warranties regarding any results or outcomes from your participation in the Program. By enrolling in the Program, you agree that neither I, nor anyone associated with the Program, shall be held liable for any direct, indirect, punitive, special, incidental or other consequential damages, or any other economic loss arising directly or indirectly from the Program.

Any content review provided does not replace professional editing.
Payment:
Payment is collected through Teachable. If you're unhappy with the program or need to drop out, contact us in the first 30 days and we will give you a full refund through Teachable.

Confidentiality:
You understand and agree that your completed, unique nonfiction book proposal is yours to use as you pitch your project to industry professionals; however, the tools, materials, and information presented in the Program are my confidential, copyrighted, and the proprietary information, and you understand that you will not record, duplicate, distribute, teach or train from the materials without my express written permission. Any unauthorized use or distribution of this Intellectual Property is prohibited and may result in further legal action.
Relationship to the Parties:
I am an independent contractor and nothing in these Terms will be construed as establishing an employment or agency relationship between us.
Agreeing to Terms and Conditions:
If you have read and agree to the terms and conditions, select the combination that corresponds to the option you would like, to pay and secure your spot. Your purchase indicates you agree.
CRAFT A COMPELLING NONFICTION BOOK PROPOSAL 90-DAY PROGRAM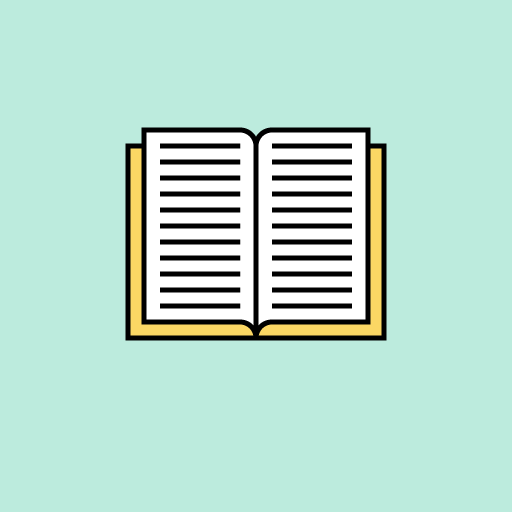 Video Training, Live Coaching, Supporting Content, and a Private Coaching Group
Price: $547 (USD) or Three-Month Payment Plan ($197/m)*

This gives you:
access to the Craft a Compelling Nonfiction Book Proposal 7-module training
all support materials including worksheets and checklists
any program updates such as new content recorded to reflect shifts in the industry so you are able to create and pitch the best possible project
private group coaching space
8 Q&A coaching calls — group meets with Ann via Zoom
pop-up training provides additional instruction
BONUS: downloadable, editable proposal template
BONUS: sample book proposals to inspire your own design elements
BONUS: "The Organized Writer" course ($75 value)
BONUS: Access to "Make Your Sentences Sing" course
BONUS: "7 Steps to a Clear Book Idea" course ($27 value)
EARLY-ACTION BONUS (Limited): First 10 people to purchase receive a free 30-minute coaching call
* If you are located outside the U.S., Teachable automatically collects Value Added Tax (VAT; sometimes called goods and services tax, GST) on purchases of services; this tax will be added to your enrollment fee at checkout.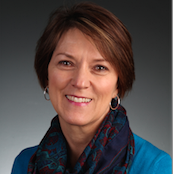 "Whether you need to write a book proposal or tweak the one you've already written, Ann Kroeker's course is thorough and will provide everything you need. She is a gracious and encouraging coach who will take you to the next level."
- Cathy Leland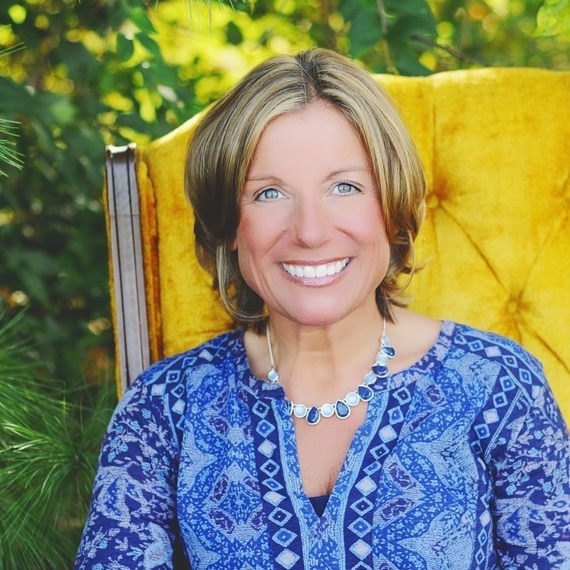 "Ann's guidance on developing a book proposal facilitated a dream come true with the launch of my first book with a mainstream publisher. There is no doubt that her devotion toward my growth as an author provided the trajectory for success."
- Lori Ashley Taylor, author, Dragonfly: A Daughter's Emergence from Autism...a practical guide for parents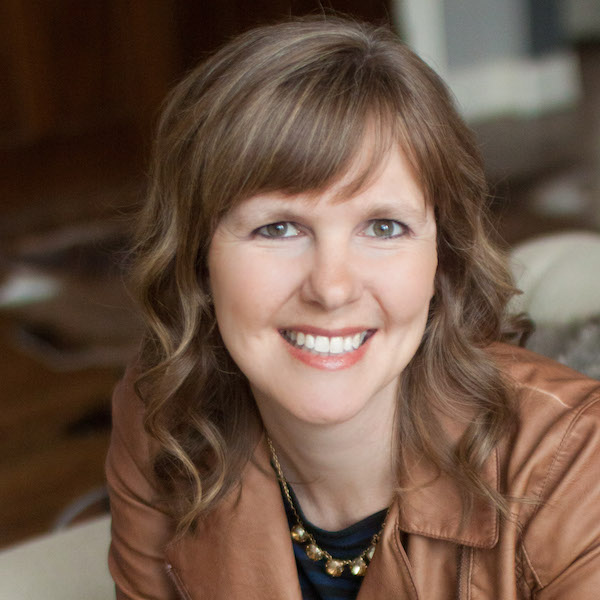 "Group coaching with Ann Kroeker is the best investment I've made so far in my writing life. If you've followed Ann's podcast or blog, you already know her seemingly endless supply of helpful tips and resources for writers. In group coaching, she combines those resources with her delightful, thoughtful personality to provide a first-rate growth experience. None of us wanted the six weeks to end!"
- Marissa Henley, author, Loving Your Friend Through Cancer
This course is closed for enrollment.
FAQs
Have a question the sales page hasn't answered? Check out these frequently Asked Questions that have arisen.

Q: When does the course start and finish?
A: The group program runs for 90 days (12 weeks), but you'll have access to the recorded content as long as the materials live online.
Q: How long do I have access to the course?
A: After enrolling, you have unlimited access to the recorded elements of the program across any and all devices you own for as long as the content remains online. The group aspect will conclude after 90 days. I'll step away from the group coaching space at that time and other members will be free to leave that space, as well. But I don't intend to archive or close down that space. I plan to leave the recorded sessions live and available within Teachable. You can return to those videos and use them for other proposals down the road.
Q: What if I am unhappy with the course or need to withdraw?
A: We would never want you to be unhappy, and we know that life is unpredictable! If you are unsatisfied with your purchase or you need to withdraw, contact us in the first 30 days and we will give you a full refund.
Q: What if I realize I can't finish the course or I'm not ready to craft a book proposal?
A: The program is fully yours, whether or not you are able to participate fully or keep up. The good news is that the materials are available to you throughout the 90 days and beyond, so if you're in the program but unable to work through the materials as quickly as you'd like, the 90-day live elements may have concluded, but you can always go back and view the lessons when life opens up or when you're ready to develop a book. If you need to withdraw you can contact me within 30 days for a full refund, but then you lose access to the course material.
Q: If I win a free 30-minute 1:1 call, do I have to schedule it within the 90 days?

A: Yes, if you win one of the free calls, you'll schedule that within the time frame of the program. Due to scheduling conflicts, I can't extend that offer beyond the 90 days. But three months leaves plenty of time to set an appointment, so if you plan ahead you'll be able to find a slot. :)
Q: Will Ann review my book proposal when I'm done?
A: Sorry, proposal review is not part of the program. However, you're invited to share excerpts of your proposal as we move through the program, and both members and I will offer our thoughts. And peer review is part of the program for those interested in exchanging proposals and offering input.
Q: How much time will this take?

A: This varies based on how quickly you write and if you increase the speed when watching the videos. If you look at the sales page, you can see how long each video is. The template walk-through is a bit long, but most are relatively brief. In addition to that, you'll be drafting sections of your proposal and if you haven't already written chapter drafts or chapter summaries, you'll work on those simultaneously. And while this course is not a platform-building course, this topic inevitably comes up as writers realize they'd like to increase those stats, so you may be experimenting with expanding your platform. Depending on how ambitious you are, you might be juggling a lot of activities at the same time. If you participate in the hour-long Q&A calls live or catch them on the replay, you'd add in an additional eight hours spread out over three months.
Q: Will I get access to all the training videos and materials all at once?
A: Students have consistently reported that having access to all the materials at once overwhelms them. You can review the big picture on the sales page to see what we'll cover, but I'll be releasing the videos in chunks each week to pace progress and allow time for me to address questions that arise as you review and take action on that week's content.
Q: Are there payment plans?
A: For this course, we accept only a one-time payment up front. I've tried to give enough advance notice to help writers set aside sufficient funds to invest in this critical stage of the book development process.
Q: What's the enrollment process?
A: The entire enrollment and checkout process takes place through Teachable, using their safe payment processing or PayPal. To enroll, click on the button (located both at the top and bottom of the sales page) that says "Enroll." That will take you to the checkout page, where you'll enter your payment information (use the dropdown arrow to choose credit card or PayPal payment methods). You'll then have access to the course where you'll see a welcome video from me and next steps instructions. In addition, you'll receive an email with duplicate instructions. That way you can easily reply to that email with any questions or problems you have.
Q: I see a lot of videos about platform. Will you teach us about platform-building as part of this course?
A: We'll naturally talk a lot about platform, since it's an expected element in any book proposal. In the private group, members may share ideas that have worked for them and I give you a few tips along the way, but this is not a platform-building course. I do offer a separate membership course if that's something you're interested.
Q: What do "in-group challenges" look like and am I obligated to participate?
A: In-group challenges are optional for members to join or agree to participate in. They're set up within the group (not public) to achieve a streak of activity related to the program. For example, members might be presented with a five-day writing challenge, to commit to writing at least 500 words per day for five days. This is a way the group can feel a surge of support and accountability in the community space. We will run at least two challenges throughout the 90 day program.
Q: What days and times are the eight Q&A Coaching Calls scheduled?
A: The Q&A coaching calls will be on Tuesdays at 1pm ET. I hope this works for you, but it may not if you're at work and can't slip away for a late lunch break. Assuming technology serves us well, the calls will be recorded and a replay provided (see below for more about that). I'll schedule the call information with the Zoom link as a Facebook event in our private group and send an email reminder, as well.
Q: What if I miss a call?
A: I will do everything in my power to record the call so that you have access to the replay. Even if you can't be there live, you can submit your questions ahead of time for me to address.
Q: I'm not quite ready to put together a proposal. Will you offer this program again?
A: I don't plan to offer this 90-day group program again until 2021. If you don't have a book idea and your platform could use a little oomph, consider waiting until the following session to take the course. In the meantime, you can focus on platform for several months while you simultaneously develop your book idea. By the time I offer the program again, you'll have more numbers to add to the platform section of your proposal