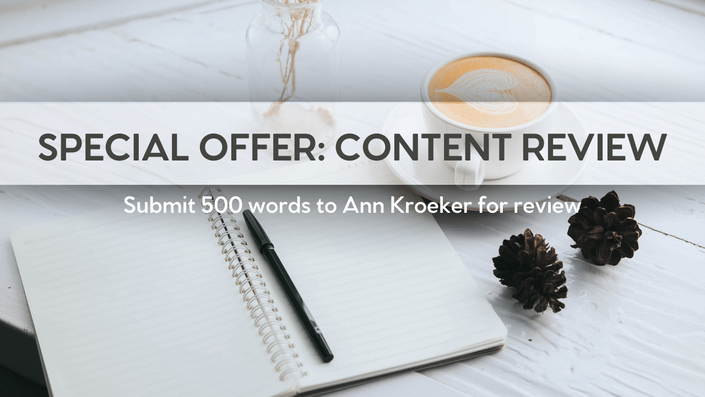 Special Offer Content Review
Submit 500 words to Ann Kroeker for review
You're obviously committed to strengthening your writing skills, so let me ask you this...
Are you interested in personalized input on your writing?

Would you love to get honest (but encouraging) coaching recommendations without a giant financial commitment?

Have you craved feedback from an industry professional but didn't know where to turn?
Because you're a writer investing in personal development, I'm extending a special offer that can help even more:
Content review from a professional writing coach!
Normally I provide this service on a limited basis and only in the context of a one-on-one coaching package.
Today, I'm extending an offer that will allow you to invest in content review of 500 words at a crazy discount (less than what I normally charge for 1:1 services!).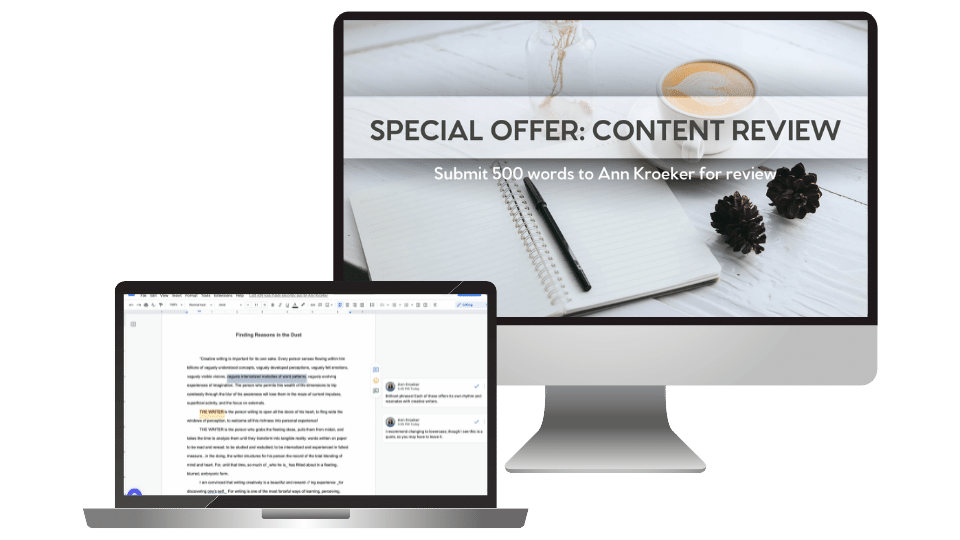 That's right: you can get coaching input on your work at a ridiculously reduced rate!

Sign up for this special offer and you can send me an excerpt from any writing project you're working on.
I'll review your content and send it back with notes about what's working — and how you can make it even stronger!
This special offer is $37 for 500 words.


Sign up today for this content review offer, and you'll pluck an excerpt from your introduction, a chapter, an essay—any writing project you're working on—and submit that for my review.
I'll dive in, leaving detailed comments.
You'll get your excerpt back with loads of encouragement and suggestions for how to make it even stronger.
You could submit:


an excerpt from your current work-in-progress

a blog post

two Instagram captions

a portion of your sample chapters

a selection of an essay

your About page

a section of a sample chapter
I share honest, encouraging, and specific input—it's coaching with an editorial eye.
This is not official developmental editing, copyediting, or proofreading, however, and my coaching input cannot replace an editor's expertise.
What I will do is identify your creative strengths and offer writing recommendations. These may be related to your project's idea, concept, organization, sentence fluency, style, grammar, punctuation, or usage.
Important: You must read and agree to the Terms and Conditions below before purchasing. Your purchase indicates your agreement.
* Though I offer coaching input with an editorial eye, this is not official developmental editing nor a copyedit and cannot replace that expertise. Instead, this will give you some solid input and recommendations related to your writing, whether you want to discuss concept, content, style, or grammar struggles.
---
Terms and Conditions
Please carefully read the following terms and conditions (the "Terms") relating to your purchase of one-on-one coaching (the "Services") with Ann Kroeker, together with any of her affiliates, colleagues, or agents. By registering for the Services, you agree that you enjoy writing, that you hope to hone your craft under the tutelage of Kroeker, and you further agree to these terms and conditions. If you cannot assent to these terms and conditions, you should not purchase the Services.
General Terms and Conditions:
You understand that I have made every opportunity to adequately represent the Services and the potential outcomes–i.e., the Services are designed to coach writers and aspiring writers, and to help hone these individuals' writing skills and provide direction and input to help them achieve their writing goals. However, you understand that individual results and success may vary depending upon a myriad of factors, including your skill, command of language, competency, knowledge, ability, dedication, goals, and other intangibles. I cannot make any guarantees, representations, or warranties regarding any results or outcomes from your participation in the Services. By enrolling in the Services, you agree that neither I, nor anyone associated with the Services, shall be held liable for any direct, indirect, punitive, special, incidental or other consequential damages, or any other economic loss arising directly or indirectly from the Services.
Any content review provided does not replace professional editing.
Payment:
Payment in full will be received by Ann Kroeker in cleared funds no later than three (3) business days before date of commencement of the Services. Any scheduled Services will be postponed until funds clear and payment is made in full. In the case of payments made in installments, Services will be scheduled after each installment is received in cleared funds.
You understand that, by signing up for the Services, you are claiming one of the limited number of spaces. Any and all payments made in connection with the Services secure your space to the exclusion of another, and said payments are, therefore, considered non-refundable.
Should the situation so warrant, as in cases of unforeseen travel or illness, I, in my sole discretion, may refund a portion of the Services fee if cancelled calls cannot be rescheduled and the coaching package cannot be completed.
Scheduling of the Services will be done through a digital system and is booked based on the mutual availability of the parties. At times, illness or travel may require a call to be cancelled or rescheduled. Rescheduled calls will not incur additional fees.
Confidentiality:
You understand and agree that the tools, materials, and information presented in the Services are my confidential, copyrighted, and the proprietary information, and that you will not record, duplicate, distribute, teach or train from the materials without my express written permission. Any unauthorized use or distribution of this Intellectual Property is prohibited and may result in further legal action.
Relationship to the Parties:
I am an independent contractor and nothing in these Terms will be construed as establishing an employment or agency relationship between us.
Agreeing to Terms and Conditions:
If you have read and agree to the terms and conditions, use the Buy Now button to pay and secure your spot. Your purchase indicates you agree.
SIGN UP & GET THIS BONUS!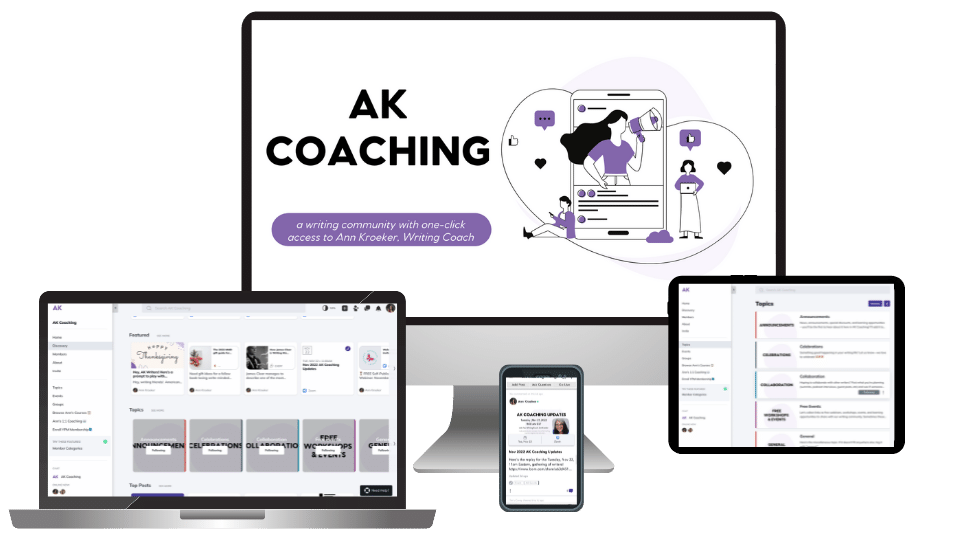 With you invest in this content review offer, you'll receive a bonus: an invitation to join my exclusive writing community, AK Coaching.
What is it exactly?
AK Coaching—hosted in Mighty Networks—is a place to enjoy community and gain ongoing, one-click access to me long after I send back your reviewed content.
This is only available to writers who have worked with me, whether through program, course, 1:1 coaching, or an offer like this content review.
Your Instructor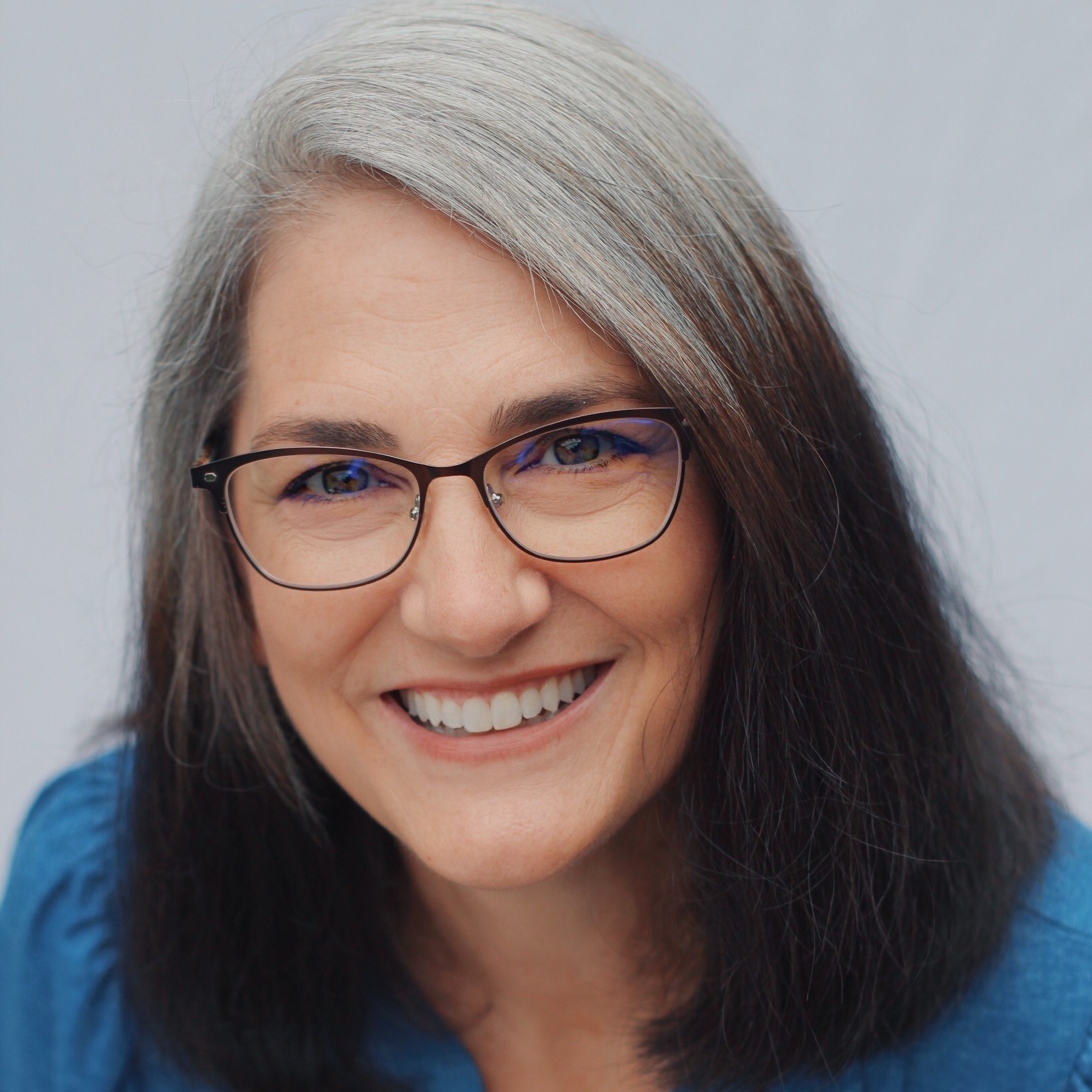 "I help established and emerging writers be more curious, creative, and productive."
Writing Coach Ann Kroeker leverages over 25 years of writing and editing experience in the publishing industry to equip her clients to reach their writing goals. A published author and coauthor, corporate and freelance writer, book editor, speaker, and poet, Ann has served on the editorial teams of two large online organizations and focuses on serving others in her role as a writing coach.
As a writing coach, she celebrates client successes, such as acceptance into prestigious MFA programs, signed agent and book contracts, articles and essays placed in national publications, and the launch of their own freelance writing businesses. She coauthored On Being a Writer: 12 Simple Habits for a Writing Life that Lasts, and authored Not So Fast: Slow-Down Solutions for Frenzied Families and The Contemplative Mom.
Course Curriculum
Welcome!
Available in days
days after you enroll
Content Review Clients
Available in days
days after you enroll
Additional Coaching
Available in days
days after you enroll